Time To Move!
Although travelling overseas may not be feasible at the moment you can still plan for the future and explore the many opportunities that Europe has to offer, with October's Time To Move campaign the ideal opportunity to start.
Organised by Eurodesk-the Europe wide information network for young people of which Limerick Youth Service is a member,  the Time To Move campaign promotes opportunities to study, work, travel and volunteer across the continent that include:
Study:   students can study overseas via the Erasmus+ exchange programme
Volunteer: spend time in youth or community groups with the European Solidarity Corps
Work:   EURES is a great starting point for those interested in working in Europe
Travel:  Inter-railing is a great way of exploring Europe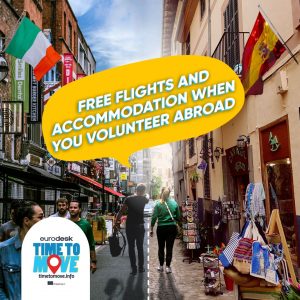 Throughout October specialists Youth Information Officers, including the team at LYS, will be available online to chat with young people and parents who would like to learn more.
Youth Information Officers will be live online each weekday evening from 4-8pm via www.limerickyouthservice.com/got-a-question to offer advice on how to access European opportunities.
LYS' Youth Information Centre is located at LYS' Community Training Centre, Lr. Glentworth St, Limerick and provides support and guidance to young people.
A member of Youth Work Ireland, LYS remains committed to connecting with young people and supporting them to reach their full potential.
The Time To Move campaign is organised by the Eurodesk Ireland Network that includes Limerick Youth Service, Crosscare, Europe Direct, SpunOut, YMCA, Youth Work Ireland.
ENDS####