Migrant Teens Stand Up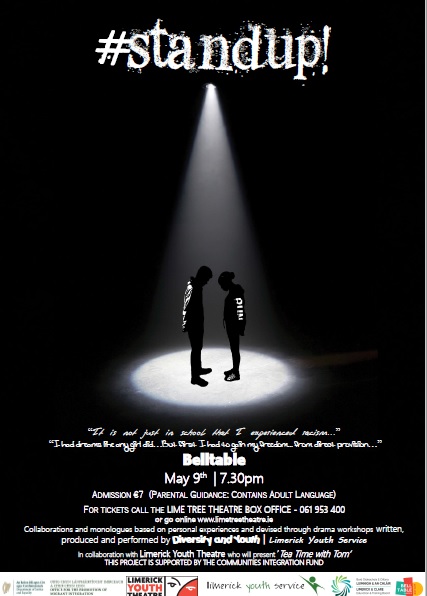 Limerick Youth Service (LYS) in collaboration with Limerick Youth Theatre will host 'Stand Up' and 'Teatime with Tom,' two plays that portray the experiences of young people, at the Belltable Arts Centre, O'Connell St, Limerick on Thursday next, May 9th at 7:30pm.
Written and performed members of LYS' Diversity & Youth Group (D.A.Y), StandUp is a powerful, thought provoking and emotional drama piece that gives an insight into growing up in Ireland through the eyes of migrant young people.
The play will include short drama pieces, monologues and dance routines that show the experiences of teenagers from migrant communities,' said Shay Moloney, LYS.
'The cast give a moving, funny and often shocking accounts of personal experiences touching on issues such as racism, living in the direct provision system and adapting to Irish culture,' said youth worker Shay.
'Although the content may shock people, the young people were keen to include this as it is their experiences of living in Limerick,' said Shay.
The evening will also include a performance of Teatime with Tom, a play from Limerick Youth Theatre that focuses on the experience of Tom, a young chat show host.
As the chat show host interviews people it becomes apparent that all is not what it seems as the audience gets an insight into being young in contemporary Ireland.
Tickets for what promises to be an educational and entertaining evening at the Belltable are priced at €7 and can be purchased at www.limetheatre.ie or by calling the box office at 061-9534000.
LYS' D.A.Y group includes young people from Bangladesh, Syria, Nigeria and Latvia who got together to share their experiences of growing up 'different' in Limerick.
Limerick Youth Theatre provides opportunities for young adults to gain experience with drama groups and in the performing arts.
A member of Youth Work Ireland, LYS remains committed to connecting with young people and supporting them to reach their full potential.
ENDS####