Diversity Stand Up
Emotional. Eye-opening. Educational. These just some of the superlatives used to describe Stand Up and Teatime with Tom, two powerful performances from Limerick Youth Service (LYS) and the Limerick Youth Theatre that wowed a packed auditorium at the Belltable Arts Centre recently.
Written by and starring members of LYS' Diversity & Youth Group (D.A.Y), StandUp gave an insight into growing up in Ireland through the eyes of young people from migrant communities.
Through short drama pieces, monologues and dance routines, the young people shared their experiences of racism, living in the direct provision system and adapting to Irish culture.
 'I am free.  I can come and go when I want'
One such monologue was from Jadesola Olatilewa who bravely spoke about her experiences of growing up in the Direct Provision System.
'I really stepped out of my comfort zone by telling my story on stage,' said Jadesola, a TY student at St. Mary's Secondary School, Newport, Co. Tipperary.
'It was really hard speaking about my time there (in Direct Provision) and I was trying not to cry, but this is my story and people need to know about what goes on there, as some people don't even know it's on their doorstep,' said Jadesola.
When asked about life outside of the Direct Provision System, Jadesola said 'I am free.  I can come and go when I want and my mam does not have to sign a form saying where I am.'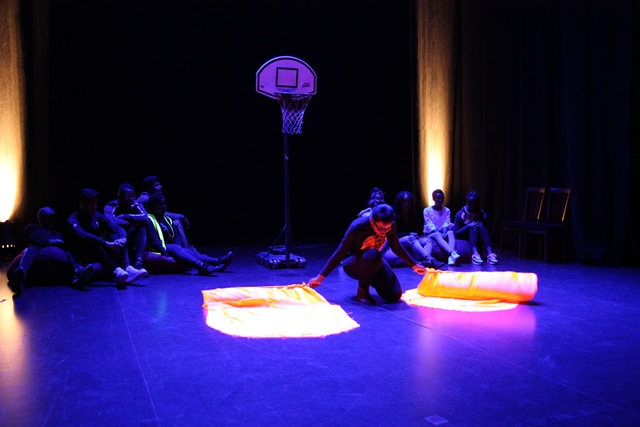 Other members of LYS' Diversity & Youth Group also shared their stories of racism, isolation and some of the cultural difference between people of different races and backgrounds.
Meanwhile, the Limerick Youth Theatre's Teatime with Tom, was an outstanding production that addressed the many forms and guises of mental health and how it can affect a person.
Speaking to a packed Belltable, LYS' Shay Maloney congratulated the young people for their excellent performance and for bravely sharing their experiences.
'They (Diversity & Youth Group) deserve great credit and have certainly opened people's eyes to what it's like growing up 'different' in modern Ireland,' said Shay.
Shay who also congratulated the Limerick Youth Theatre on their 'witty, clever and entertaining play that showed the different sides of a person's mental health.'
LYS' D.A.Y group includes young people from Bangladesh, Syria, Nigeria and Latvia who got together to share their experiences of growing up 'different' in Limerick.
Limerick Youth Theatre provides opportunities for young adults to gain experience with drama groups and in the performing arts.
A member of Youth Work Ireland, LYS remains committed to connecting with young people and supporting them to reach their full potential.
ENDS####