Comhaire Say Not Around Us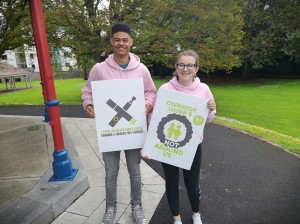 Limerick Comhairle na nÓg have partnered with Limerick City & County Council and Healthy Limerick to promote Not Around Us, a new campaign to discourage smokers and vapers from lighting up or vaping around others.
Launched to coincide with World No Tobacco Day (Friday May 31st), Not Around Us is about promoting an environment where it is easier for those who smoke to quit and remain smokefree and helping to de-normalise smoking for the next generation.
Not Around Us is another step Towards a Tobacco Free Limerick. It is about supporting Chapter 7 of Tobacco Free Ireland: denormalisation of smoking and protection of children and young people.
'Limerick Comhairle na nÓg are delighted to be supporting Tobacco Free Limerick. It has been great discussing this vision for a healthier Limerick at our meetings and attending planning meetings,' said Eoin Coughlan, Chairperson, Limerick Comhairle na nÓg.
'Tobacco Free Limerick is not just about adults quitting smoking in Limerick, what it is about for us is community empowerment, respect and creating a culture support, caring for yourself and those around you,' said Eoin.
'We think all of this will make our beautiful City and County a better place for those young, those older, and those still young at heart,' added Eoin.
The purpose of Not Around Us is to:
Help protect children and young people from second hand smoke exposure
Contribute to the denormalisation of smoking for children and young people
Reduce to environmental nuisance, cost of cleaning and damage that discarded tobacco products create
Signpost the HSE Quit services
The campaign is supported by the Mayor of Limerick City & County, Cllr. James Collins who said 'we are working with a range of public and community organisations as well as schools and early years services across Limerick to protect the health and wellbeing not only of our children, but also of our older citizens of the future.'
'Limerick City and County Council is leading the way by upgrading the signage in support of Tobacco Free Ireland in all its own playgrounds. We are inviting schools, early years services and not for profit organisations in Limerick to display the same Not Around Us signage in outside places and spaces where children and young people are likely to be,' said Mayor Collins.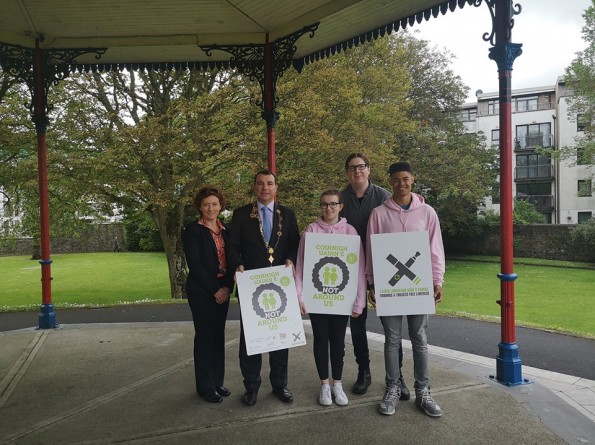 The Minister for Health Promotion, Catherine Byrne TD is also a supporter of the initiative saying 'I congratulate all involved in Limerick's Not Around Us initiative.
Minister Byrne TD added 'Ireland has shown strong leadership on tobacco control, and community-led initiatives such as this play a crucial part in driving the cultural shift that is still needed to reduce the number of smokers and to achieve our goal of Ireland being Tobacco Free by 2025.'
Limerick Comhairle na nÓg has partner with Limerick City and County Council, the Health & Safety Executive (HSE), Limerick Children and Young People's Services Committee, Limerick Childcare Committee, Healthy Ireland and ASH Ireland, Council of the Irish Heart Foundation.
Limerick Comhairle na nÓg (youth council) is supported by Limerick Youth Service and is one of over thirty youth councils nationwide.
A member of Youth Work Ireland, Limerick Youth Service remains committed to connecting with young people and supporting them to reach their full potential.