Limerick Heats for IYMAs '23
Limerick Youth Service is inviting teenage singer-songwriters and musicians to take part in the regional heats of the Irish Youth Music Awards (IYMAs) at Lava Javas Youth Café on Thursday, February 16th from 4-8pm.
The IYMAs is open to singers/rappers, bands and groups from all musical genres, with two acts chosen to represent Limerick Youth Service at the IYMAs National Finals in Dublin in mid-May.
The IYMAs are a great opportunity for young musicians and those interested in all aspects of the music industry, to gain experience of the live music scene,' said Shelly Goggin, Limerick Youth Service.
'As the event is solely for original content, it's a great opportunity for acts to showcase their own lyrical and musical talent,' said Shelly, youth worker with Lava Javas Youth Café.
'We'd love to hear from young people who have an interest in music who would like an opportunity to perform on stage and possibly progress to an All-Ireland event!' said Shelly.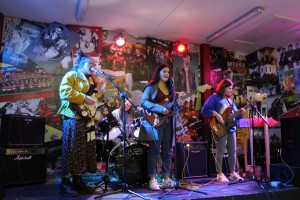 Limerick has a great youth music scene and has enjoyed great success at previous IYMAs with Laura Duff, Elenay and PowPig (pictured left), just some of the local acts who have competed on the national stage.
As part of this year's IYMAs, Lava Javas Youth Café, in partnership with Music Generation, is running a song writing and music production workshops for beginners every Thursday.
Those interested in the music workshop or taking part in the IYMAs are asked to contact Shelly at shelly.goggin@limerickyouthservice.org call 061-412444/087-7055197 or registered via Limerick IYMAs.
The IYMAs is a youth music educational programme that supports, developing musicians that provides hands-on music-based education, personal development and key links to the music industries.
Located at 5 Lr. Glentworth St, Limerick, Lava Javas Youth Café is a fun, friendly and engaging space that is open to all young people (14-19yrs).
LYS is A member of Youth Work Ireland and the Irish Association of Community Training Organisations.
Now in its 50th year LYS remains committed to connecting with young people and supporting them to reach their full potential.
ENDS####
Note to Editor:  The IYMAs are a youth work programme delivered by Youth Work Ireland.