Kildimo Youth Club Reopens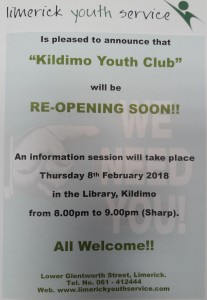 Locals in the Kildimo area who would like to learn new skills, meet new people and have fun are asked to consider volunteering with Kildimo Youth Club!
As a volunteer with Kidimo Youth Club, which is affiliated with Limerick Youth Service (LYS), you can take part in fun activities, gain experience and support our local young people.
Interested? Then pop along to the Library, Killala Road, Kildimo, Co. Limerick this Thursday, February 8th from 8-9pm to find out more.
Staff and young people from Limerick Youth Service will be on hand to speak about the important role a youth club plays in the lives of young people.
The team from LYS will also speak about the process of building a youth club from recruitment of volunteers, working with young people and above all, having fun!
Supporting over 35 community based youth clubs in addition to an array of youth projects, LYS offers an ideal opportunity to gain valuable front line experience in the youth work field.
Volunteers will receive ongoing training and support and have access to LYS vast knowledge and experience-over four decades of it!
For further information please contact LYS at lys@limerickyouthservice.org or call 061-412444.
A member of Youth Work Ireland, Limerick Youth Service remains committed to supporting and encouraging young people to be active participants in shaping their futures.
ENDS####