Drug & Alcohol Awareness Evening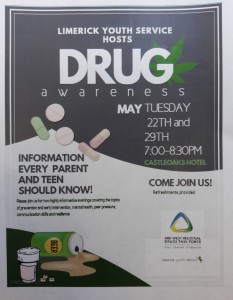 Limerick Youth Service will hold a two part information series on the effects of drug and alcohol misuse on teenagers, their families and communities at the Castle Oaks Hotel, Castleconnell, Limerick on successive Tuesdays starting on May 22nd & 29th (7pm).
Organised by young people from LYS' Castleconnell Youth Project, the evenings will inform young people and their families about substance misuse, the risks associated with it and equip parents with the skills and language to speak with their children about drugs and alcohol.
The first evening will focus on the effects of substance misuse on a young person's mental and physical health and will include input from LYS and Limerick DEPS (Drugs Education & Prevention Strategy).
'Siobhan O'Brien, a counsellor/psychotherapist with LYS, will speak about the effects of substance misuse on a young person's mental wellbeing, exploring the some of the reasons young people take alcohol and drugs,' explained Shay Moloney, LYS.
'We will also hear from Sarah Butler, Limerick DEPS, who will have details of the drugs being used by young people, the consequences of using them and warning signs to look out for,' said Shay, youth worker with Castleconnell Youth Project.
In session two, David McPhilips, Community Substance Misuse Team, will talk about the supports available to young people and their families, how they can be accessed and his experience working with people who are addicted to drugs and alcohol.
The information evening is free and open to young people, their families and members of the community with light refreshments available.
For further details please contact Shay Moloney at shaym@limerickyouthservice.com or 086-8901671.
A member of Youth Work Ireland, Limerick Youth Service remains committed to connecting with young people and supporting them to reach their full potential.
ENDS####