Young Cyclists Honoured
There were joyous scenes at the Southside Youth Space recently as eight young people who took part in an innovative bike programme with Limerick Youth Service (LYS), received their Certificates of Achievement from Cllr. Gerald Mitchell.
The teenagers, who hail from across Limerick, were participants with 'On Yer Bike' an exciting and very popular programme run by LYS' Bike Project at The Factory Southside Youth Space, Galvone, Limerick.
Among the many dignitaries present at the Southside Youth Space were Cllr. Gerald Mitchell, Cathaoirleach of the Municipal District of Cappamore-Kilmallock and Inspector Dermot O'Connor, An Garda Síochána.
Speaking to the young people Inspector O'Connor said 'you showed great motivation, commitment and dedication in giving up your free time to take part in this programme.'
'You have learned to build bikes, met new people and cycled through some of Ireland's most challenging and scenic cycling routes and that is something you should be extremely proud of, said Inspector O'Connor.
Inspector O'Connor was full of praise for the programme saying it was a 'great course that taught young people about the technical skills as well as the fitness benefits that are associated with cycling.'
Meanwhile course coordinator, Des Galligan congratulated the graduates and thanked their families and those that supported the programme.
'You have been a joy to work with and to learn to assembly a bike from scratch in such a short space of time is a remarkable achievement,' said a very proud Des adding with a smile 'you gave up your Saturday morning lie-ins to explore the Emerald Isle!'
As one class ends, another is beginning and LYS have a number of vacancies for young people interested in taking part in the On Yer Bike project.
On Yer Bike covers many parts of the bike industry such as maintenance and assembly as well as the employment opportunities in what is becoming one of Ireland's fastest growing industries.
The social, physical and mental health benefits of cycling are also a key feature of the course with the teenagers learning about diet and nutrition in addition to modules that cover mindfulness and martial arts.
Away from the workshops, the teenagers will explore some of Ireland's most majestic cycling greenways including the Ballyhoura Bike Trail, Co. Limerick and the Great Western Greenway, Co. Mayo.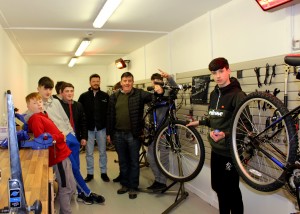 LYS' Bike Project is supported by the Irish Youth Foundation, Limerick City & County Council, Limerick Sports Partnership and Cycling Ireland.
A member of Youth Work Ireland, Limerick Youth Service remains committed to supporting and encouraging young people to be active participants in shaping their futures.
ENDS####